How to Find Cheap Apartments in Orlando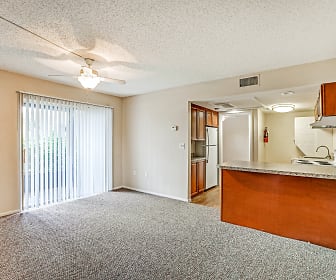 Welcome to sunny Orlando, Florida's ultimate tourist attraction. With Walt Disney World, Universal Studios, and a slew of other wonderful things to see and do, Orlando attracts over forty-three million visitors each year, more than any other city in the United States. But Orlando isn't only a magnificent place to visit; it is a wonderful city in which to live. With incredibly mild winters and proximity to both of Florida's coasts, Orlando is an ideal city to consider when making a permanent move to the Sunshine State. Here is how to find to cheap apartments in Orlando.
Consider a large apartment complex. Many Orlando apartment complexes are fairly new, and the apartments themselves are very reasonably priced. Most of them include use of swimming pools, tennis courts, and fitness centers. Developers who put up large apartment complexes initially price them so that they will move quickly. Take advantage of the reasonable rental rates and enjoy all the comforts a large apartment complex has to offer. The benefits of a large apartment complex are added security, a sense of community, and less responsibility for maintaining the common grounds.
Don't concern yourself too much with location, since Orlando's main attractions are never too far away. Walt Disney World is a mere thirty to forty minute drive from Universal Studios and, of course, vice versa. Choose a neighborhood that suits your style, then find an affordable apartment in that neighborhood. Whether it is Lake Buena Vista, Celebration, Maitland, or Winter Park, no worries. You are never far away from all the action.
Consider areas just outside Orlando, like the Kissimmee-St. Cloud area. Rental rates in these areas can be considerably cheaper. Yet you sacrifice little. Many areas just outside Orlando offer a similar setting and you remain nearly as close (in some cases closer) to all of the Orlando attractions.
Check out Craigslist and the online editions of local newspapers. Craigslist offers as many as one hundred new apartment listings in Orlando per day. Many of them are cheap. If you contact one of the Orlando area realty companies that post ads on Craigslist, they will likely send you a number of additional listing you won't find anywhere else online.
Security deposits in the Orlando area are generally equal to one month's rent. And you will not have to pay a broker's fee. Best of luck in your search, and I hope that you found How to Find Cheap Apartments in Orlando helpful.