Tiny Houses: An Alternative Housing Solution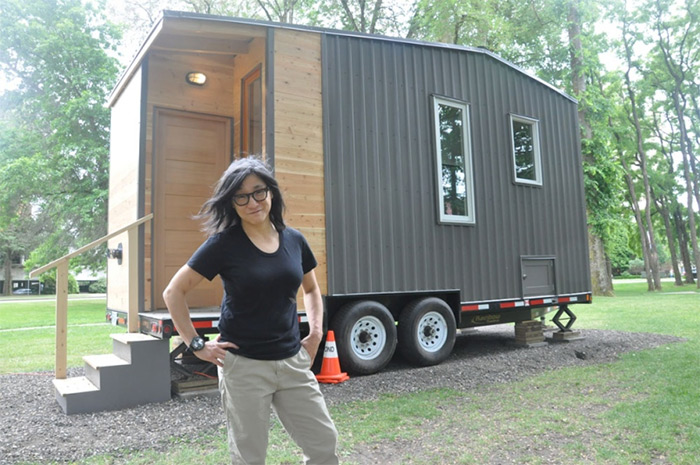 If you're overburdened by a monster mortgage and are looking to downsize in preparation for retirement, consider the ultimate in downsizing: A Tiny House.
Tiny Houses are springing up across the country as a viable housing alternative that really works for many people. Two inventive builders, Peter King, of Vermont Tiny Houses, and Jay Shafer, of Tumbleweed Houses, stand head and shoulders above the typical home builder. Both are devoted to building the exquisite, diminutive, structures, and both and in their own tiny Houses.
Living in a small home allows you to bet by on very little income, so if you've been looking for a way to wring more happiness out of life, this could be the perfect solution for you. Put some money into that perfect piece of land to perch your Tiny Home on, or do what some do, rent a small plot of land from another homeowner. You can build your small house on it's own foundation and surround it on all four sides with spacious decking, or build on a trailer platform that allows you to move your home from place to place as you see fit.
Living in a small space isn't new, by any means; many people who live in the heart of New York City have spent their entire lives in 400 square foot apartments. Yes, there are downsides to owning a small place. You'd have to get rid of a lot of your stuff. But, isn't that something that most of us secretly long to do anyway? And, like one of the original Tiny Home owners, writer, Henry David Thoreau, you'd most likely find that your life would be far richer if you ditched the bulk of your "stuff" for a life more focused on the things you love to do.
An added benefit: when you scale back on the size of your home, you have the ability to make sure that every square inch of your home is as beautifully appointed as you want it to be. Stained glass windows, hardwood flooring and beautiful cherry wood cabinetry can all be yours without breaking your budget.
If "Living the Good Life" looks better to you on a small scale, check into Tiny Houses.
Author: Kent Griswold, Page Title: Cavco Off-Grid Lodge, Site Title: Tiny House Blog
Author: Tiny House Design, Page Title: Tiny House Design, Site Title: Facebook
-Beds 1 – 6 Monday
-Beds 7-12 Tuesday
-Beds 13-18 Wednesday
-Beds 19-24 Thursday
-Beds 25-30 Friday
-Beds 31-36 Saturday
-Beds 37-40 Sunday
If you desire a different bed location you must sign up with the office staff for a bed change request.
Personal laundry services are not available at Noel House.
Community Room and Reflection Room
The doors to these rooms are closed at all times. There are also rules and procedures for each television and DVD player, you are required to follow them. You may sign up for a viewing time to watch your personal DVDs or special programs. The volume must be low during quiet time.
Incentives
Noel House encourages residents to assist with chores like folding clothes, cleaning up the kitchen, wiping down dining room tables, sweeping community room or reflection room, wiping down televisions and remotes, etc. Certain chores garner incentive points towards special donated items and extra nights out.
Emergency Procedures
During an emergency please follow staff directions to the letter. You are to exit the facility immediately and leave behind all personal items. You are encouraged to sleep in clean, comfortable street clothing with protective shoes next to your bed in the event an emergency happens in the middle of the night. When exiting, please remain aware in case this is an ambush or a false alarm to lure residents from the safety of Noel House.
Community and Advocacy
Please know that staff is highly trained and available to assist you in accessing housing, medical care, employment, benefits, domestic violence or sexual assault assistance or other essential services. Community meetings are held in the dining area twice per month after dinner. All residents may submit grievances, comments and suggestions to staff, supervisors and the program director. For additional information or updated information please call (206) 441-3210 extension 2.