Cheap Apartments in Houston's Galleria Area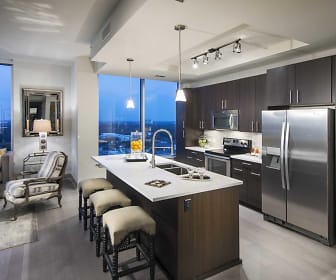 If you love shopping, culture, coffee shops and traffic, then Houston's Galleria area might be where you want to start looking for your next apartment. Although many apartments in the Galleria area are expensive – upwards of $2,000 per month – you can still find cheap apartments without sacraficing many of the amenities that you love. Here are five cheap apartments in Houston's Galleria area:
5401 Chimney Rock
Although not terribly original – the apartment complex is named after its address – you'll always know where you can find your home! 5401 Chimney Rock is one of the most popular apartment complex in Houston's Galleria area because of its price and its wide range of amenities. All apartments come with walk-in closets, self-cleaning ovens, frost-free refrigerators, fully equipped kitchens (microwaves included), and individual washers and dryers. They also speak Spanish, which is great for residents who only speak Spanish. One-bedroom apartments start at $465.
5401 Chimney Rock Apartments
5401 Chimney Rock Rd.
Houston, TX 77081
www.imtreg.com
Carrington Court
Carrington Court offers both apartments and townhomes, and is conveniently located on Westheimer Rd. They have kitchen bay windows, large closets, valet trash collection, more than 15 floorplans, covered parking, two separate laundry centers, and hardwood floors. Some apartments also have fireplaces and tile floors. One-bedroom apartments start at $599, and two-bedroom apartments start at $650.
Carrington Court Apartments
7900 Westheimer
Houston, TX 77063
www.allianceresidential.com
The Heritage
If you're looking for a Galleria area apartment where you can pick and choose which amenities you want, then Heritage is the perfect place for you. Residents can choose dramatic marble entry floors, crown and base moulding, mirrored walls and fireplaces, balconies and patios, and fully-equipped kitchens. All apartments have 9-ft. ceilings, and the complex is complete with swimming pool and jacuzzi, controlled access gates, valet trash service and elevators. One bedroom apartments start at $675.
The Heritage Apartments
2666 Marilee
Houston, TX 77057
heritageapts@houston.rr.com
Park at Woodlake
The Park at Woodlake apartment complex is a secluded, comfortable place to call home. With huge oak trees, four separate swimming pools, two scenic ponds with fountains and limited access gates, this is one of the safest apartments in the Galleria area. Cable TV is available, they have laundrey centers, and the interiors were professionally designed. Residents also enjoy fireplaces, community centers, frost-free refrigerators and walk-in closets. One-bedroom apartments start at $575, while studios start as low as $425.
Park at Woodlake Apartments
9545 Ella Lee Ln.
Houston, TX 77063
www.westdale.com
Sendera Briargrove
Sendera apartments are popular in Houston, and Briargrove in the Galleria area is no exception. Located between Voss and Fountainview on Westheimer, residents of Briargrove have access to restaurants, shopping centers and movie theaters. Apartments come with covered parking, granite countertops and walk-in closets. The community boasts five swimming pools, a jacuzzi, a sand volleyball court, a full-size basketball court and six air-conditioned laundry facilities. One-bedroom apartments start at $550.
Sendera Briargrove Apartments
6263 Westheimer
Houston, TX 77057
www.senderabriargrove.com
For more information about Houston Galleria area apartments, visit www.forrent.com.