How to Find Cheap Apartments in Atlanta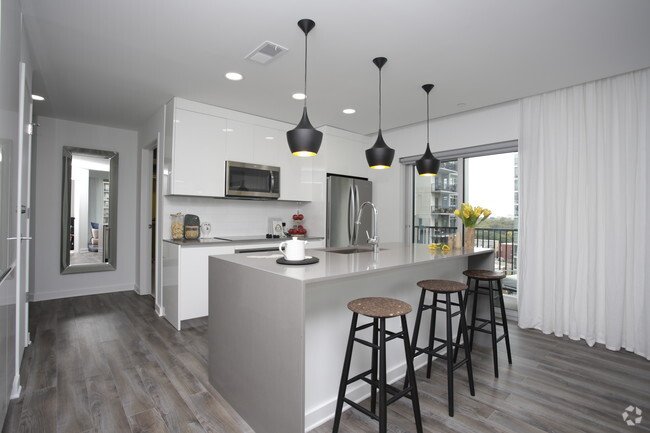 If you're moving to the Atlanta area soon, or are in Atlanta and looking for a cheaper apartment, you're in luck. There are plenty of resources you can refer to, besides just taking a day to look around the area and find out which apartments are leasing. But before you start apartment hunting, you may want to take a few things into consideration.
For starters, you need to be sure about the area you want to live in. If you want to live downtown, only look for apartments that are downtown, especially if you work downtown, too. Trust me, the commute from the suburbs to a job downtown every day can be hell, so if you can take MARTA to and from your job, you won't arrive to work needing three extra cups of coffee and a whole lot more vacation time.
If you want to find an apartment that's not quite in the middle of the city, the rates for the rent will be cheaper in most cases, just because of the location. While this is important to keep in mind, you can catch some specials for downtown apartments if you look during the summer, or right before school starts. There are several colleges in Atlanta and the surrounding areas, and students are always looking to move off campus, so you may be able to get your first month's rent free, or a discounted rate when you move in by a certain date. There are also a number of loft-style apartments in the Atlanta area that you'll like if you're into modern architecture-places like 1016 Lofts (on 1016 Howell Mill Road downtown) offer great prices for spacious apartments, and the complex is only a few years old, so the apartments are in good condition.
Also, check out the area you're thinking of moving to in Atlanta to make sure that you'd actually enjoy 'living' there. For instance, do you go out to eat a lot? If so, you'll want to move close to Restaurant Row in Atlanta, a great location in between downtown and midtown that offers restaurants like The Real Chow Baby and the Octane Coffee Shop. If you like to shop, you may want to think about moving close to the new Atlantic Station in Atlanta, a great shopping plaza with just about every store you can think of, like Nine West, White House Black Market, and restaurants like Copeland's Cheesecake Bistro and California Pizza Kitchen.
If you're new to the area or haven't arrived in Atlanta yet, there are a few websites that you may want to check out so that you can get an idea of the apartment you want before your move. Sites like www.atlantaaptguide.com will give you information on apartments in all the counties in and around Atlanta, once you input some of the details of what you want in your apartment-such as the number of bedrooms, how much you're willing to pay for rent, and the date you plan on moving in. You can also check out Rent.com (www.rent.com) for more information on Atlanta apartments, or stop by your local Promove (www.promove.com) office to find discounted apartments in the area of Atlanta that you want to move to.