Is the High Cost of Housing Getting You Down?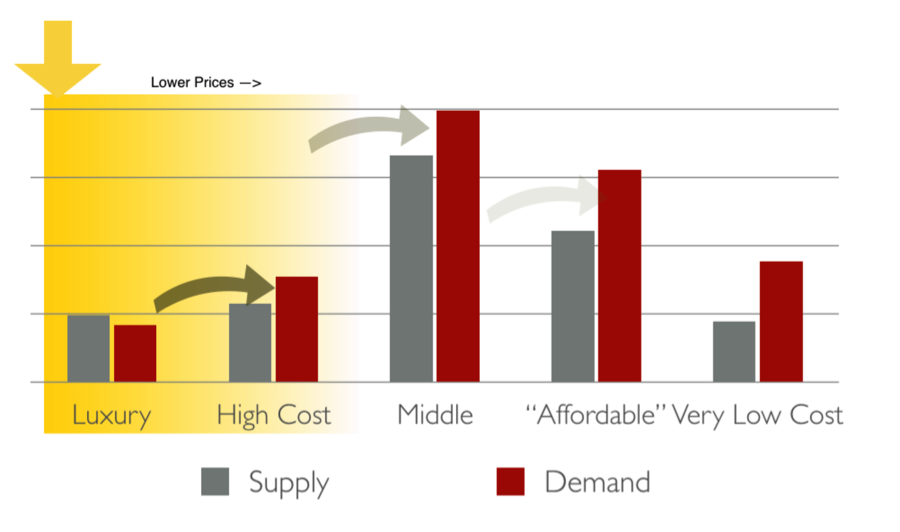 With McMansions popping up on every corner, more and more people are working longer, and harder to keep up the payments on these fancy digs. At some point in time the thought runs through the minds of some owners, is it worth it? For some it is, but for a few the price for keeping up with the Joneses has become to much of a burden. How can they escape and regain their freedom. The freedom to leave when they want, find new adventures, have more time for themselves.
The perceived life of a homeless person is sleeping on a park bench, with newspaper spread out protecting them from the elements. In reality it is usually more along the line of curling up in a dark corner under the freeway. Maybe behind some bushes for protection. Hoping and praying no one notices your presence, allowing you to safely catch a couple hours rest before you return to wandering the streets. Not a pretty picture.
Actually there is a small portion of people who just decided to simplify their life. To step away from the norm, and follow a different path. To them, it's more important to have the ability to travel when they want, work if and when they want, but only enough to provide the necessities of life. Housing takes on a whole new meaning. Some buy older motor homes or campers, but then they are restricted to living in commercial campgrounds. This isn't a cheap way to live as campgrounds charge up to $30 a day. Many cities restrict how long you can stay at a campground. To avoid this expense some will rotate between some free spots considered safe to stay. Truck stopsusually are open to RV owners as well as trucks, and if your lucky they'll have a dump station. Walmart parking lots will usually have a handful of RVs staying the night.
A hazard of this life style is developing a pattern. By living in an RV it is blatantly obvious what your doing. If your rotating between just a couple spots, very shortly managers of these business will recognize you as a regular freeloader, and will start running you off. As soon as it appears you have set down roots, they will treat you as a vagrant and send you on your way.
Time to consider going incognito. Camping, without appearing to be camping. One vehicle that can blend into many area's, and appear as if it should be there, is a commercial truck. More specifically a Box Truck. Every business district has them, truck stops are loaded with them. There is nothing out of the ordinary about them, when found sitting in any commercial setting. You may want to avoid parking next to a McMansion, or say a Federal Building, that would draw attention to you in a hurry. But parked at the edge of a parking lot of a furniture store, or on the street in front of a plumbing supply store, what could be more natural. Your options are many and varied, avoid residential areas as you'll stick out. Home owners will call the police when you park in front of their place for more then a few minutes.
When you go shopping for that perfect truck what should you look for? My personal favorite is an old Bread Delivery Van. These are lower to the ground, but yet large enough to set up quite comfortably. They also provide access between the driver's seat and the back of the truck from the inside. If you find yourself needing to leave from where your parked, it's much safer to be able to do it without getting out of the truck. Don't hurry off for that new paint job, remember you don't want to be noticed. If the truck still has decals from its former life, so much the better. The more it looks like a work truck from the outside, the more privacy you will have.
Don't start installing a bunch of windows either, one small window on each side is sufficient. Mount them high enough that passer bys can't see in. Be sure to equip them with black out curtains too. On the inside you can go as wild as you like. Let your creativity and craftsmanship shine, remember this is your new home and you want to be comfortable. Make it something you can be proud of. Searching the Internet for House Trucks will give you some great ideas. www.mrsharkey.com is an excellent web site with many different House Trucks and Converted Buses to use as examples of creativity and functionality.
When you move into your new palace remember you don't want to draw attention to yourself. Forget the loud stereo, keep the noise to a minimum. When you build a fire in the wood stove make sure your someplace that won't bring the Fire Dept. running, thinking your truck is on fire. Large chain truck stops are your friend. The Flying J, Pilot, Travel Centers of America, Rip Griffon, Petro, all nation wide and most of them have everything you need to live comfortably in your truck/home. Dump stations, fresh water, showers, and good restaurants, just don't wear out your welcome.